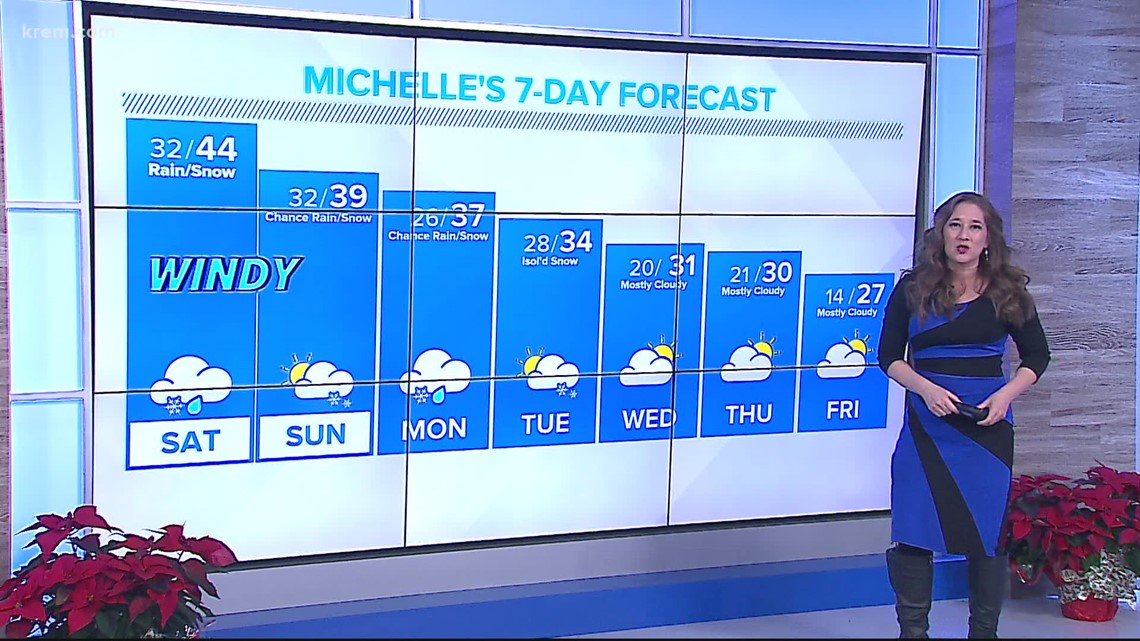 Heavy mountain snow and strong winds are expected over the weekend.
Heavy snow is expected over area mountains this weekend. As the storm moves over the Cascades, one to two feet of snow will fall in the coming days. Fourth of July and Lookout Pass will pick up the better part of a foot of snow this weekend. In addition to the snow is some strong wind is expected across the region. That means near zero visibility at times and pass closures are possible.
Lower elevations like Spokane and Coeur d'Alene will see snow, rain, and wind. It starts Friday night with snow. The snow continues through Saturday morning and will be heavy enough we could squeeze out a couple inches in town. Wind picks up on Saturday, causing temperatures to soar. Temperatures will climb into the 40s because of the warm southerly wind (wind out of the south). That will turn the low elevation precipitation into snow by late Saturday morning. The warm weather and rain will melt a lot of the morning snow.
Sustained winds of 20-30 mph with gusts 40-50 mph are expected on Saturday. That prompted a wind advisory for much of Eastern Washington. While wind likely won't be strong enough to cause widespread damage, it will be gusty enough to send loose Christmas Decorations flying!
Wind and snow will die down Sunday. As wind eases, temperatures will trend a little closer to normal. But that doesn't mean we are done with the active weather pattern.
Snow and rain are in the forecast each day through the start of the week with temperatures hovering on either side of freezing. That means more snow in high elevations for all of the ski resorts in need of some fresh pow!
-KREM 2 Meteorologist Jeremy LaGoo

Article Source: Krem2