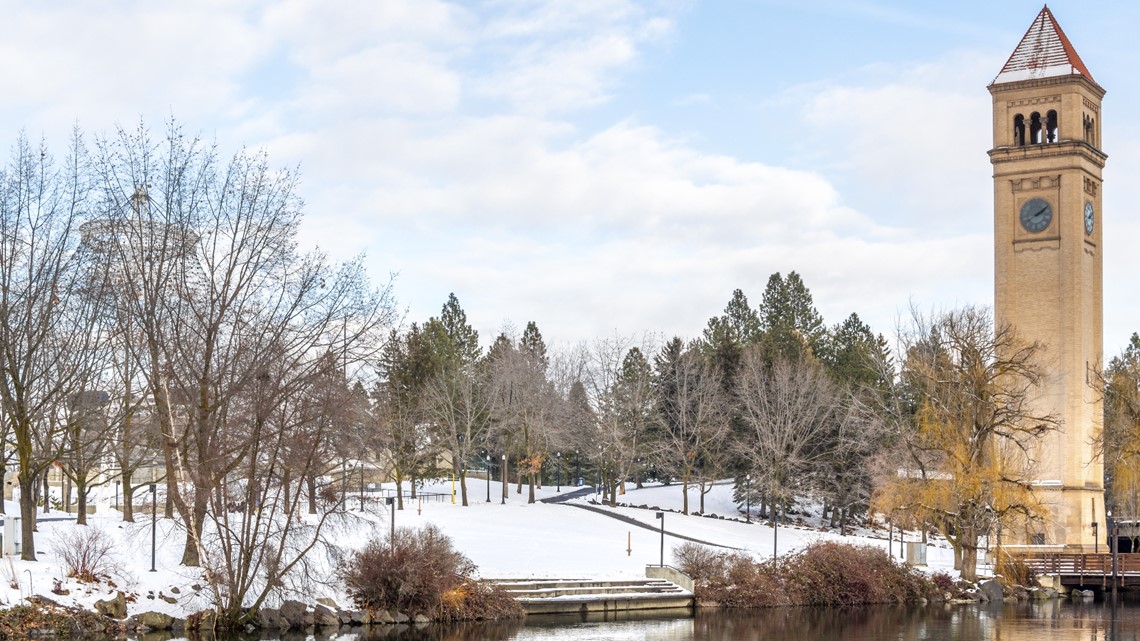 New Year's Eve weather will be very cold for those hoping to see fireworks displays in the Spokane area.
SPOKANE, Wash. — Spokane is finishing out 2021 with snow and the coldest weather of the year.
Winter Storm Warnings were issued for the Pullman, Lewiston and Wallace areas through the day Thursday for snow totals ranging between three and eight inches. Meanwhile, Winter Weather Advisories are in place for Spokane and Coeur d'Alene as two to four inches of snow will likely fall throughout the day.
Pullman could see five to eight inches of snow on Thursday, as the heaviest snow falls south of Interstate 90. Spokane had already seen a little more than two inches of snow as of 6 a.m. on Thursday and an additional two inches of snow is in the forecast through the afternoon. Eastbound I-90 was closed near Highway 2 for several hours on Thursday for a jack-knifed semi amid the winter driving conditions.
Cold temperatures will also stick around through the end of the year. The temperature in Spokane dropped to a low of 4 degrees late Tuesday night, making it the coldest weather the city has seen all year long. Forecasts for the morning of Friday, Dec. 31, could put temperatures on the final day of the year below zero degrees.
The last time Spokane was below zero was on March 1, 2019. That day happened to be a record low as below-zero temperatures are very rare for that late into the winter.
High temperatures are only going to be in the teens for the rest of the week. This day-long cold weather is a bit more rare. The last time Spokane's high was as cold as 11 degrees was on Feb. 5, 2014 and you'd have to go back to 2010 to find the last date Spokane didn't even hit double digits.
During a stretch of weather like this, it's important to be prepared outside, inside and while traveling. Dress in multiple layers to stay warm while outside, particularly when the wind is strong and causes wind chills to drop. It's a good idea to keep an eye on your pets too, as some animals don't like the cold as much as others.
Inside, keep the warm air circulating throughout the home, especially where the plumbing is. This gives you the best chance for pipes to not freeze over. People should also check in with their elderly neighbors and family members to make sure they are comfortable and doing the same during this cold stretch of weather.
Drivers should have an emergency kit in their car while traveling, including blankets, water, phone changers, batteries and first aid.
New Year's Eve weather will be very cold for those hoping to see fireworks displays. Spokane's fireworks at Riverfront Park are slated for 9 p.m. on Friday night. The forecast at that time is for a temperature of 1 degree with wind chills below zero. Be sure to be extra careful if you are planning on being outside at that time.
Article Source: Krem2