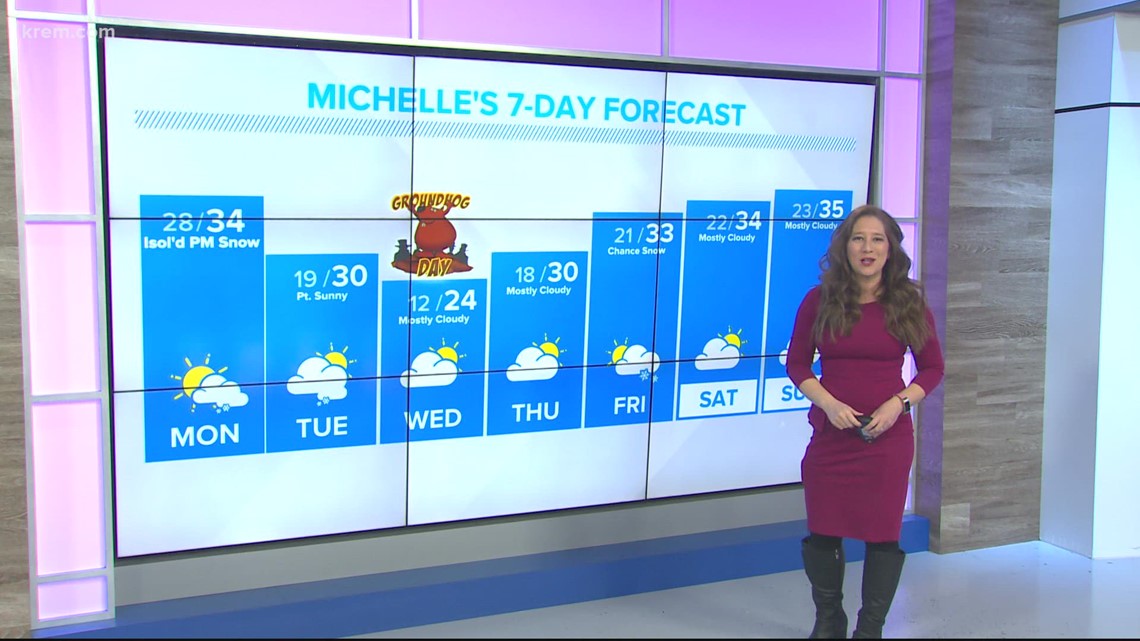 Less than an inch of snow is expected in Spokane but slick conditions possible Monday morning.
SPOKANE, Wash. — Snow is coming down hard in the Cascades with Winter Storm Warnings for both Snoqualmie and Stevens Pass through 4pm on Monday, so slow going for travel in that area into the start of the week. Moderate snow amounts of 4-8″ are expected for Lookout and 4th of July Pass in Idaho, and Winter Weather Advisories are in effect there until 4pm Monday.
Closer to home, snow accumulations will be much lighter. We should pick up and inch or less of snow in the Spokane area with slightly higher amounts closer to Coeur d'Alene. Snow may mix with rain at times, especially in the downtown area and the Spokane Valley. Temperatures will be falling below freezing toward the Monday morning commute though, so slick conditions on untreated roads are possible.
Winter Weather Advisories are in effect for Northeastern Washington and the Northern Panhandle of Idaho where 1-4″ of snow are expected in the valleys with up to 6″ in the mountains.
An addition to the mixed precipitation, winds are expected to pick up Sunday night into Monday. Southwest winds of 15-25 mph are expected with gusts up to 35-40 mph. A few snow showers are possible Monday afternoon, but otherwise skies will be partly cloudy with highs in the mid 30s.
Temperatures will be chilly as we move into February but, outside of a few flurries, quiet weather is expected for the first several days of the month. Chances of snow return to the area at the end of the week.
-KREM 2 Meteorologist Michelle Boss

Get the latest StormTracker 2 forecast and warnings on your mobile device. Download the KREM 2 app and turn on severe weather alerts.
About the KREM 2 Weather Team
Article Source: Krem2