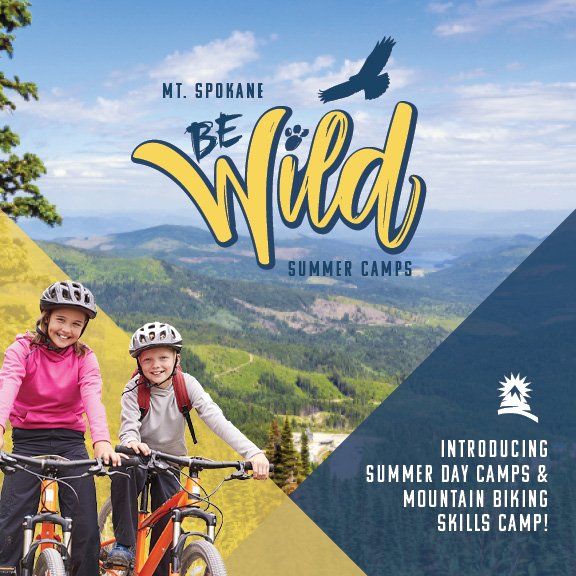 Mt. Spokane Ski & Snowboard Park has a proven track record for teaching skills and fun on the mountain each winter. For the first time, we are taking those same principles and introducing Summer Day Camps! Join us for a wild adventure unlike any other. Located on the top of our region's iconic mountain, camp kids will spend their days playing hard, exploring the mountain, making friends, and getting dirty—always with an emphasis on protecting our natural resources and environment.
Mountain Bike Skills Camp
$225 | Ages 9-16 | July 28–30, Wed-Fri
Join us for three action-packed days of exploring Mt. Spokane State Park on your own mountain bike! Dominate jumps, rip through dirt, and hammer over roots and rocks just like the pros! Technical trickery, jumps, and drops are just some of the skills we work on in these camps. Each day starts off with skill-builders and ends with hitting the trails. We'll do a hands-on fix-a-flat class and play lots of bike games. We'll even spend time learning about stewardship and trail maintenance techniques. Upon arrival, our coaches host evaluations, placing campers in groups based on ability.
Requirements: Helmet, Mountain Bike with a minimum of 7 gears, minimum of 2″ tires, front suspension, closed-toed shoes.
Mountain Adventure Day Camp
$179 | Ages 6–11
Option 1: August 4–6, Wednesday-Friday
Option 2: August 11–13, Wednesday-Friday
Join us for three individual days of day camp where kids embrace the outdoors and play in a unique State Park environment. We will be playing games, engaging in outdoor activities, and having fun—all while learning respect for the mountain and the wildlife that calls it home. Plan for climbing, hiking, crafts, games, and more! Our adventure camps always have an emphasis on teaching environmental stewardship.
Article Source: Mt. Spokane