click to enlarge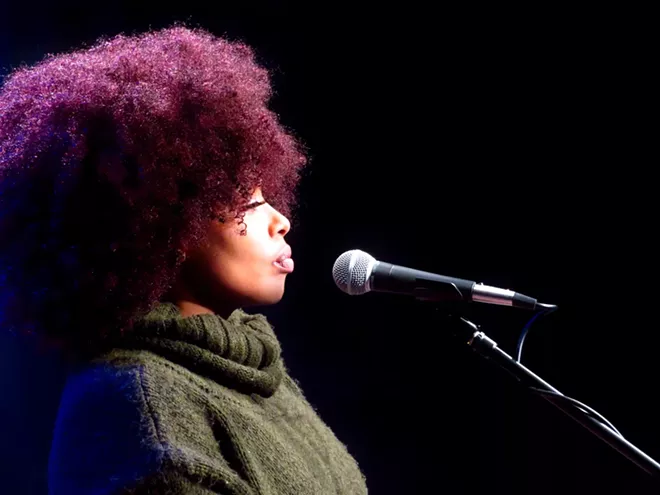 M
artin Luther King, Jr.
was a powerful speechwriter and speaker, sparking a movement that has ebbed, flowed,
flared up and persists nearly 60 years later because the "promises of democracy" he dreamt of (and wrote about
in his famous "March on Washington" speech) have not been fulfilled for all Americans.
Beyond King's words, however, we are inspired by his voice, rising and falling with the passion of his
conviction that "all men are created equal." Because, as celebrated poet Maya Angelou once said, "Words mean
more than what is set down on paper. It takes the human voice to infuse them with deeper meaning."
Powerful words, powerful voices. KSPS' Jan. 17 creation and airing of Honoring Dr. King offers both.
One standout of the broadcast is Shadle Park High Student JaNese Howard singing "Rise Up." Her singing
exemplifies what singer Nina Simone meant when she described the human voice as music's "only pure
instrument." Howard's performance was that powerful.
So too was Stephy Nobles-Beans' rich reading of her own poetry, narrated as much by her sonorous voice as
her exuberant facial and hand gestures. Experiencing poetry this way was a rare treat.
Hosted by NAACP President Kiantha Duncan — another powerful speaker — Honoring Dr. King amplifies
local voices in the community. Moreover, it calls upon listeners to be, as King wrote, "eternally vigilant,"
especially with regard to the right to vote.
The half-hour Inland Sessions' production was beset with and overcame weather and COVID-related issues to
nonetheless educate, inspire and remind us that the instrument of change lies within.
Watch the archived broadcast at video.ksps.org/video/honoring-dr-king-a7ukwq.
Article Source: Inlander