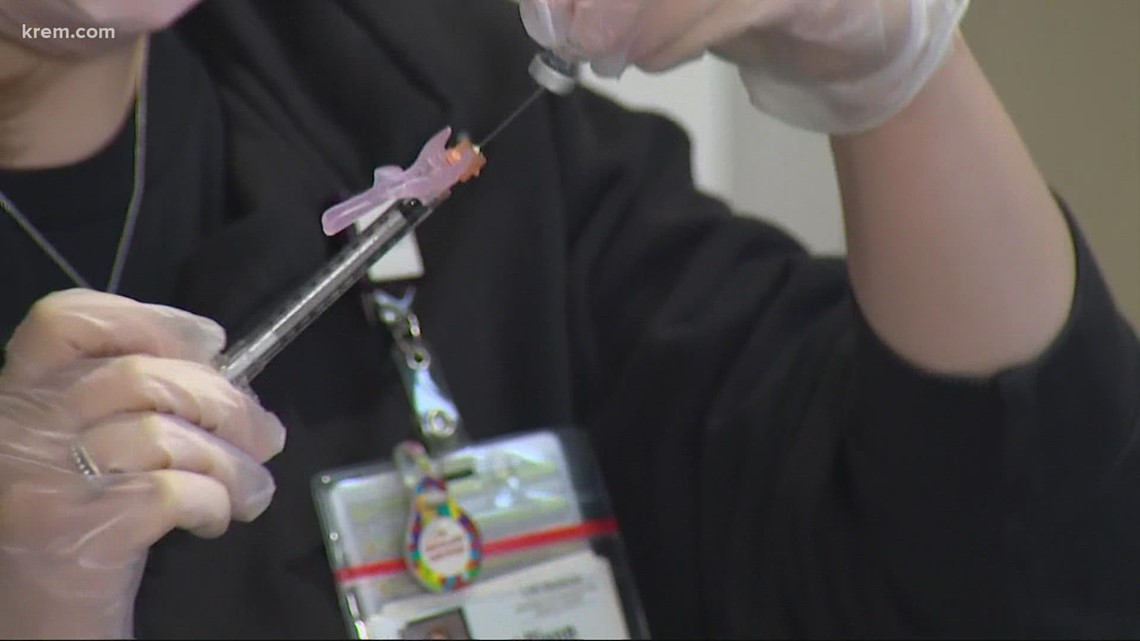 Here is everything you need to know about where and when to get a Moderna or Johnson and Johnson booster shot in the Spokane area.
SPOKANE, Wash. — Local pharmacies, clinics and health care providers across the U.S. are offering booster doses of Pfizer, Johnson and Johnson and Moderna COVID-19 vaccines for people 18 years and older.
This comes after the Centers for Disease Control and Prevention (CDC) approved the use of COVID-19 booster shots for all adults on Nov. 19. Pfizer vaccine shots are available for children age 12 years old and up and kids ages 5 to 11.
Previously, a single booster dose of Moderna and Pfizer COVID-19 vaccines were authorized only for people 65 years of age and older, individuals 18 through 64 years of age at high risk of severe COVID-19 and workers 18 years and older, who are at increased risk of exposure and transmission because of their jobs.
Moderna and Johnson and Johnson COVID-19 booster doses are now available at local pharmacies and at some healthcare providers for people 18 years old and older.
The CDC recommends a COVID-19 booster if you are 18 years old or older and have received any of the following vaccines:
Received the Johnson & Johnson vaccine at least two months ago.
Received both shots of either the Moderna or Pfizer COVID-19 vaccine at least six months ago.
People getting the booster dose need to show proof of COVID-19 vaccination and vaccine boosters can be mixed and matched. That means people can choose the kind of booster they prefer regardless of what dose they got in the past.
Here is the list with the locations where people 18 years old an up can get the booster vaccine:
List of Spokane and Spokane Valley pharmacies offering boosters of Johnson & Johnson and Moderna COVID-19 vaccines
Here is what people need to know before and after getting their booster shot:
Bring proof of COVID-19 record card vaccination.
Scheduling an appointment online or by phone is strongly recommended for individuals looking to receive the booster shot to ensure that it is available at the pharmacy location of their choice.
All doses of the vaccine are free of charge.
People can choose which COVID-19 vaccine they want to receive as a booster shot.
According to the CDC, people may experience side effects after getting a COVID-19 booster shot, but these are normal signs of the body building protection against COVID-19.
As of Dec. 6, more than 1,245,000 people have received a COVID-19 booster shot in Washington and nearly 75% of people in the state are fully vaccinated.
Article Source: Krem2